Each of us has a hidden story.. something we don't openly share with others because it's embarrassing, something we can't change, something we wish would just GO AWAY.
I've performed the national anthem DOZENS of times in the Omaha area for crowds of a few hundred to 15,000+.  Last fall, I waited off-ice at UNO's first hockey game of the season, ready to perform once more.  I was running through the lyrics in my head, and about two minutes before I was up… I BLANKED.  I got to a middle stanza in the anthem and could not come up with the words.  In a panic, I googled the lyrics on my phone, just to have them ready in my pocket if my memory didn't kick back into gear.
It didn't.  In front of 5,000 fans, I had to pull out my phone in the middle of our country's anthem and look down for help.  I LOVE MY COUNTRY.  I KNOW THIS SONG.  AND I WAS MORTIFIED.
I still shudder when I think about it… because to anyone who HADN'T heard me sing before, I will forever be the idiot who didn't know the words to the national anthem.  I've only performed the anthem once since then… terrified this could happen again.
Now, an example of COURAGE.  A woman who not only accepts mistakes, she shares them to empower others to shrug their shoulders, learn and move on.
Miss Twin Rivers 2017 Emma Wilkinson
Though I had interviewed Emma last year during her time as Miss Chadron's Outstanding Teen, I had never heard her perform.  When she sang at the 2016 Miss Nebraska's Outstanding Teen Pageant.. this was me in the audience.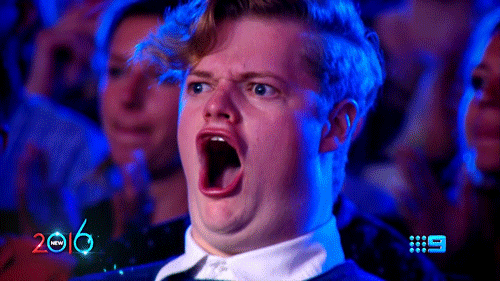 Emma won 1st runner up, an honor in large part due to that extraordinary vocal performance.  It's something she's quite accustomed to; a senior at North Platte High School, Emma's earned the lead role in school productions, she's a member of the NPHS Pacers dance team, and and she's competed in multiple vocal and dance competitions.  CLICK HERE to read the North Platte Telegraph's article on Emma when she was crowned in February.
Just this week, Emma shared a clip of her performance as part of a high school music contest.  (CLICK HERE TO WATCH!)  BUT… she also noted on the same post, 'this was before I forgot the words.'  She wrote: After working for a month, I let myself down when I forgot many of the lyrics due to nerves and poor confidence. I walked away extremely upset with my performance. • I have chosen to take this experience as a lesson. All I can do from here is work harder next time, show up with confidence, and hope that I prove my worth. • Always take each experience as an opportunity to become a better you, no matter the end result. #motivationmonday#missnebraska2017"
Emma Wilkinson will turn 18 years old tomorrow.
An amazing display of maturity, acceptance and understanding, the result of a personal journey that Emma bravely speaks about as Miss Twin Rivers 2017.
"My platform, 'Rethink Your Drink', is focused on informing children of alcoholic parents that they are not alone," Emma told me recently, noting alcoholism has touched her family as well.  "Once I reached the fifth grade, I made a best friend with similar experiences to my own.  We shared our struggles and helped each other cope with the pain brought about by alcoholism.  Addiction does not have to debilitate a child's aptitude to achieve success and I want to spread those words like wildfire, especially to those who need to hear them most."
Emma has visited several schools throughout the North Platte area to share her story, her message carrying extra weight as a local girl who will compete right in her city at this summer's Miss Nebraska Pageant.  As she told me last year, it was those former Miss Nebraska's (namely Brittany Jeffers and Becky Smith-Wagner) who greatly impacted her life as she grew up.
"I hope to reach every person when making appearances by sharing the negative effects that alcohol can leave on everyone," said Emma.  "Children are often informed about alcohol in elementary school, but I feel like they forget about the dangers of alcohol once they are surrounded by it in high school.  This is about spreading awareness of alcoholism in order to make people realize that it is not a rare occurrence."
Emma is also already taking her title statewide, including a 8-hour roundtrip trek to Omaha to take part in the Miss Nebraska Princess Party fundraiser last month.  Emma and Miss Fur Trade Days Courtney Pelland left North Platte early, met dozens of little girls at the event, and drove BACK to North Platte the same day to take part in a dance team gala the same night.
"The amazing thing about the Miss Nebraska Organization is that it brings together poised, confident and beautiful young women from all over the state to catalyze positive change," said Emma.  "Whenever I see one of our girls at the Children's Miracle Network Hospital visiting patients, I hold a huge smile on my face because this is what we're about; making a positive impact within every life we can."
And that includes their own lives.  Emma notes her own growth within the last year alone, crediting it to her time as both a teen and now miss titleholder.
"My social skills and confidence have improved the most through appearances and performances," said Emma.  "My main goal is to use my platform as a tool to serve as a mentor to those who are affected by alcoholism, but I also want to continue to grow as a person through this organization.  I am one of the youngest in the pageant this year; I have so much more to learn and I trust this will help me become the best woman I can be."
A woman who aims to be warm and open to others.  A woman who is open-minded and remains positive, despite challenges and hurdles she has come across throughout her life.
"I do not judge someone based upon their values and beliefs," said Emma.  "Everyone has been raised in different ways and has gone through different struggles; it is incredibly important to me that we accept people as they are."
Someday, I want to sing the anthem again just to prove to myself that I will not let one embarrassing moment define me.  And if I feel those nerves, that fear, bubbling up again… I will remind myself of this amazing young woman, suck it up, smile, and rock every single lyric.  Here's hoping I make my hometown as proud of Emma Wilkinson is making hers.
"I sometimes get upset when people think that our pageant is all about beauty, but I've realized, maybe it is about beauty; the beauty found within," said Emma.  "Through any circumstance, I try to remain as positive as possible.  Any challenge can be overcome and I like to live through those words within every aspect of my life."
***
Click here to follow Miss Twin Rivers 2017 Emma Wilkinson on Facebook!
WANT TO LEARN MORE ABOUT EMMA?
CLICK HERE * 2016 * Sister Act
Emma was crowned at Crowns & Gowns 2017, Nebraska's largest annual prom/pageant showcase.  CLICK HERE for more details about the 2018 pageant and event! For more information about the Miss Twin Rivers/Miss Sandhills Pageant or for information about becoming a contestant, CLICK HERE to follow the organization on Facebook.
***
The Miss Nebraska Pageant takes place June 7-10 in North Platte, Nebraska.
CLICK HERE for more details, HERE to follow on Twitter, HERE to follow on Facebook.
***
PREVIOUS.. Miss Old West Balloon Fest's Outstanding Teen 2017 Sheridan Blanco
NEXT.. Miss Fur Trade Days' Outstanding Teen 2017 Cherokee Purviance
To read more about this year's contestants, or the Miss Nebraska/Miss Nebraska's OT classes of 2014-2016 click the THERE SHE IS link at the top of the page!